Disrupting the construction industry with biotechnology.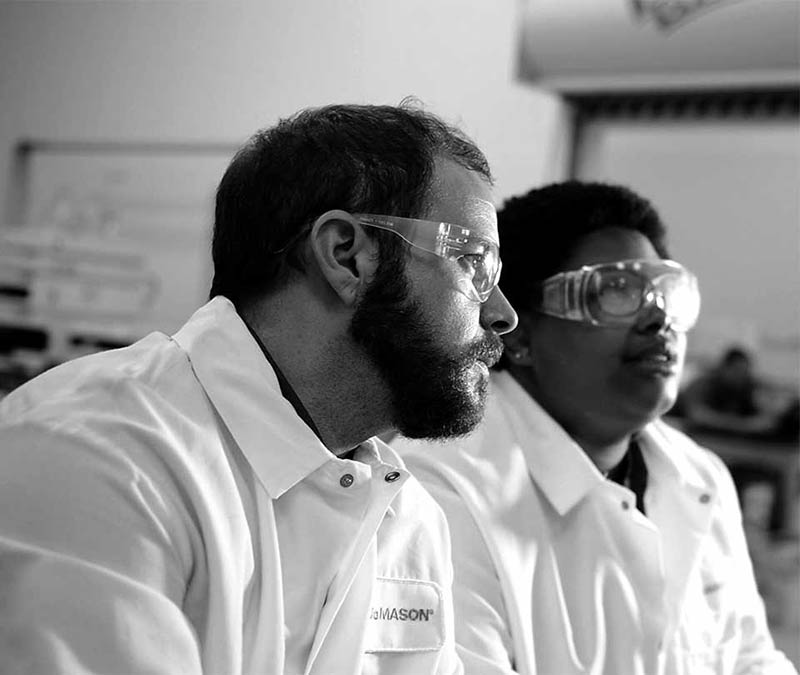 Born out of inspiration, grounded in application.
Biomason is the leading company in the world using biology to produce cement commercially. Since 2012, we've used natural microorganisms to grow structural Biocement® in ambient temperatures, harnessing the power of biotechnology to reinvent traditional cement and offer a more planet-friendly alternative.
We are for the people who aren't content with the status quo, who know what we do today matters.

We are for the people who believe in our ability to remove 25% of carbon emissions from the global concrete industry by 2030 and are ready to help us get there.

If you believe environmental promises are nothing without action, join us to make an impact as quickly as possible.
Forbes
"We look to the blueprints that nature gives us to rethink concrete."
Globally transitioning to planet-friendly construction.
Biomason was founded in 2012 by Ginger Krieg Dosier and Michael Dosier as a solution to the carbon-intensity of the cement industry. Serving the global market with a focus in Europe and the Americas, we are headquartered in Research Triangle Park, North Carolina, United States. Our Concrete Development and Production Center houses state-of-the-art manufacturing technology to rapidly iterate new solutions while a fully operational team located in Ikast, Denmark services the global demand of Biocement® products. Contact us today to learn how you can play a part in reducing the carbon footprint of cement.
Ginger Krieg Dosier has multi-disciplinary business strategy experience managing a diverse team of scientists, engineers, architects, builders, funding partners, granting agencies, and strategic partners. Her primary background includes sustainable material development from laboratory prototype to commercialization and environmental architecture.
Michael is responsible for technology development and optimization at Biomason. As co-founder, he has been with Biomason from its inception. Previously he was responsible for the development and implementation of a state-of-the art laboratory facility focused on the research of emerging materials and manufacturing technologies at the American University of Sharjah, College of Architecture, Art and Design. Before AUS he worked as an architect at offices such as Pei, Cobb, Freed + Partners, Skidmore Owings & Merrill, and Clearscapes. Most notably he worked from conception through design development on the United States Airforce Memorial in Arlington, VA designed by James Ingo Freed.
He holds a Bachelors of Architecture from NC State University in Raleigh, North Carolina and a Masters of Architecture and Urbanism from the Architectural Association Design Research Lab in London, UK.
Bert is responsible for manufacturing and supply chain operations at Biomason. Previously he was Vice-President of automotive manufacturing at Tesla, responsible for all operations at Tesla's flagship production plant in Fremont. Before Tesla he consulted for innovation driven companies such as Kindred, Holo, UltraSolar, Apple, and Sunpower. Bert has led teams through complete product development lifecycles, from early R&D to end customer deployment, qualification, manufacturing and revenue scale-up.
He held similar roles at public companies including SunEdison and Cypress Semiconductor; and start-ups such as NextGen Power Systems and SVTC Technologies, a company he founded. He holds a B.S. and M.S. in Electrical Engineering from the Catholic University in Leuven, Belgium and serves as Chairman of the Board of The Ocean Cleanup, a Netherlands based company deploying technologies to rid the oceans and rivers of plastic.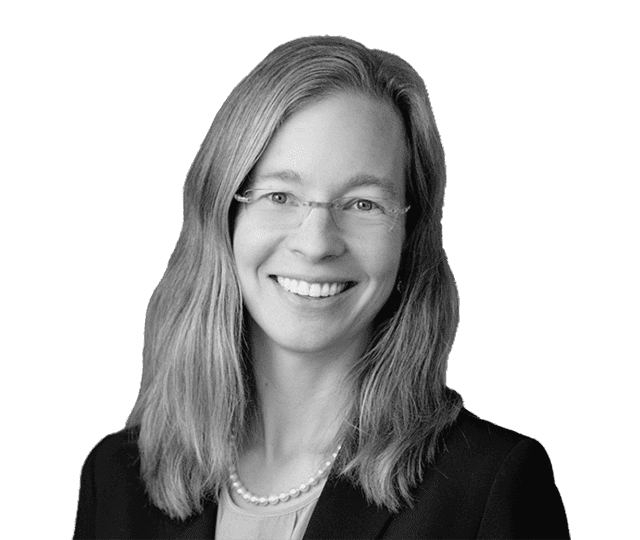 Lily Wachter has focused her career on carbon reduction and sustainable development. Her experience spans investment analysis, academic research, and CFO roles in both the for-profit and non-profit sectors. Over the past decade, she followed clean energy stocks as an equity analyst at Goldman Sachs; led the finance team at Edeniq, a venture-backed biofuel technology company; and served as CFO of the Fresno Chaffee Zoo. She holds a B.A. in earth and environmental science, with a concentration in mathematics, and a Ph.D. in sustainable development, both of which she received from Columbia University. While an undergraduate, she spent a semester at Biosphere 2 in Arizona. After college, she taught outdoor education and environmental science at the American Community School in Beirut, Lebanon. As a graduate student, she collaborated with the International Energy Agency, the World Bank, and the NASA Goddard Institute for Space Studies.
Dr. Aristidou is an entrepreneurial leader with more than 20 years of international technical and operational leadership experience in the area of bioprocess and biocatalyst development with expertise in leading teams of multi-disciplinary scientists involved in the development, scale-up and technology transfer of commercial processes. He was one of the founding members of two of the world's leading bio-based product companies, NatureWorks and Gevo. He was elected to the National Academy of Engineering in 2018 and in 2022 he became a Cargill Corporate Fellow for his contributions to multiple Cargill businesses.
Dr. Aristidou holds a B.S. in Chemical Engineering and a Ph.D. in Chemical Engineering from William Marsh Rice University. He has also completed postdoctoral studies in Chemical Engineering from the Massachusetts Institute of Technology. He has co-author more than 30 peer reviewed scientific articles in the area of biochemical engineering and is an inventor on more than 45 patents in the field of industrial biotechnology. Additionally, Dr. Aristidou has co-authored a textbook on Metabolic Engineering and has contributed chapters in multiple edited books.
Jan Vandesande leads Biomason's business development in Europe. He brings over 25 years of international experience in the broader semiconductor and PV industries, with demonstrated excellence in R&D and project management, international business development, management, and marketing and sales. His track record of successful strategic and tactical leadership in positions at global institutions such as Imec, Intel, and Alcatel Microelectronics aided his transition to senior business and technology development roles at Metron Technology, Roth & Rau, and Activ Solar. Prior to joining Biomason, Jan established his own consultancy firm, consulting on projects within the broader technology market, focusing on renewable energy and microelectronics. Previous projects include full business planning for a Brazilian PV module factory, business development for a Swiss R&D PV center, and commercial management of a French solar module fabrication equipment start-up.
As the Head of The CDPC, Lauren is responsible for the production of bioLITH tile from aggregate processing to the delivery of the final product. Lauren's comprehensive experience in fermentation research and experimentation has helped further the development of Biomason's solid state fermentation process. After receiving her B.S. in Agriculture from the University of Delaware, Lauren went on to a 10-year career as a Fermentation Scientist in DuPont's Industrial Biomaterial division. She managed a 20+ unit fermentation facility, specializing in biofuel and bioenzyme production, scaling fermentation production both domestically and internationally.
Board Members
Peder's career spans over 35 years at the world's largest bioindustrial company, Novozymes. Trained in chemical engineering and business development, he initially started in innovation and research, but he quickly moved onto general business management with 25 years on the executive board, of which he was the CEO for the last 7 years. Peder is a strong voice in sustainability and was the only business leader invited to speak at the UN General Assembly when the Sustainable Development Goals were adopted by the UN in 2015. Since retiring from Novozymes in 2020, Peder invests in sustainability and helps companies bring sustainable technologies to market.
Besides an executive position at Novozymes, Peder has been on the board of LEO Pharma and Hempel, and he has been on the board of trustees of The Eisenhower Foundation, The United States Council for International Business, and the ICC's B20 group. Peder and his wife are the primary sponsors of Borneo Child Aid, with over 2000 children in over 20 schools in Southeast Asia.
Peder holds a Ph. D and an M.Sc. in Chemical Engineering from the Technical University of Denmark as well as a degree in international commerce from Copenhagen Business School. Additionally, he has attended numerous management training programs at INSEAD and Stanford.
Ginger Krieg Dosier has multi-disciplinary business strategy experience managing a diverse team of scientists, engineers, architects, builders, funding partners, granting agencies, and strategic partners. Her primary background includes sustainable material development from laboratory prototype to commercialization and environmental architecture.
Prior to founding Biomason, she worked as an assistant professor of architecture at the American University of Sharjah, in the United Arab Emirates and North Carolina State University. She earned her Masters of Architecture from Cranbrook Academy of Art, and undergraduate degree from Auburn University. In addition, Ginger's professional background encompasses Government Agencies including the US Army Corps of Engineers, currently serving on the State Building Commission, and serving on multiple steering advocacy committees for significantly reducing carbon in the global building industry.
Prior to co-founding 2150, Christian held leadership roles in global industrial B2B companies such as Coloplast and ROCKWOOL driving changes focused on commercial development, digitalisation and sustainability. He co-founded and chaired SYNERGI, an organization focused on climate and energy efficiency bringing together large industry participants like Danfoss, Grundfos, Velux and others to lobby for Danish and European policy changes to reach the Paris Climate Agreement. Today, he is advisor to the Foundation for Climate Restoration in California.
Christian holds a Masters in Finance and International Business from Aarhus University and an executive degree from INSEAD. When not with his wife and three kids, Christian enjoys spending time off-trail running or exploring nature. His personal commitment to sustainability in 2022 to bring his kids to kindergarten on the Christiania bike to further reduce his CO2 footprint.
Brad Knight has over 30 years of hands-on operations, engineering, and supply chain management experience. Brad held executive management or board positions at Katerra, Flextronics, Metcal, and Adaptix, as well as served in chief executive, board of director, and executive consultant roles for 1800 Contacts, Erickson Retirement Communities, Retirement Living TV, and Sandisk, managing operations projects throughout North America, South America, and Asia. Brad has been instrumental in developing start-up infrastructure, contract negotiations, marketing, equipment selection and installation, MRP implementation, financial planning, and staffing for Customer Service, Product Management, Manufacturing and Logistics. Brad's unique vision, broad strategic thinking, and pragmatic managerial approach has been instrumental in his success with numerous start-ups and turnaround situations. Brad is a member of the Turnaround Management Association, and served in the U.S. Army Infantry as a Drill Instructor, Master Trainer Qualified.
For 40 years, Michael Marks has successfully led and transformed technology companies. He is a founding managing partner at Celesta Capital, where he co-leads the firm. From 2007 to 2019, he was a founding partner at Riverwood Capital Management, a private equity fund specializing in rapidly growing private companies in North America and emerging markets. He was a partner and senior advisor at Kohlberg Kravis Roberts & Co. (KKR) in 2006 and 2007. Before KKR, he spent 13 years as Chairman and CEO of Flextronics International Ltd. and built the company into one of the largest technology companies in the world.
Mike is the founding partner of Acorn Innovestments. He also co-founded Sustainable Industrial Solutions, now ndustrial.io, and is the Chairman of the Innovation Council at Noël Group / Nomaco, a manufacturer of innovative foam solutions. He is also Vice President of Operations for J&M Real Estate, an industrial real estate management company.Mike serves on the boards of Noël Ventures, Noël Group / Nomaco, Vinventions / Nomacorc, PlotWatt, Biomason, and Tethis. Before getting his M.B.A. at Duke University's Fuqua School of Business, Mike was a global project manager in business development for Nomacorc, the market leader in synthetic wine closures. In this job, he lived in China to build Nomacorc's Chinese operations followed by a move to Austria to manage the ownership transition when Nomacorc purchased an Austrian competitor. Prior to this, Mike built his experience in construction, olive oil and wine, and graduated Cum Laude with a B.S. in Business Management from North Carolina State University.
Michael Petro is Senior Vice President of Strategy & Development for Martin Marietta with responsibility for strategic planning and execution as well as corporate development activities including M&A, divestitures and asset swaps. Before joining Martin Marietta in 2015, Michael was an investment banker at Wells Fargo Securities. Prior to Wells Fargo, Michael was a management consultant at PwC. Michael received his Bachelor of Science degree in Accounting at Louisiana State University and his MBA at Duke University. He resides in Raleigh, N.C.
Anders joined Novo Holdings A/S in May 2017 as Senior Director, Principal Investments, taking part in managing and developing the growing portfolio of investments. Prior to joining Novo Holdings, Anders was employed as Vice President in Xellia Pharmaceuticals heading up the Global Product Supply. Other previous employment include Executive Vice President, Global Product Supply at Leo Pharma A/S and Vice President Global Supply Chain at Novozymes A/S. Anders holds a Ph.D. in Biotechnology and a M.Sc in Chemical Engineering from Technical University of Denmark as well as a degree in international commerce from Copenhagen Business School.
John Gugel is an accomplished global executive of technology-focused businesses with a proven track record of driving growth through innovation, organizational transformation, customer-centric philosophy, and a commitment to functional / operational excellence. John has extensive experience in new technology commercialization, licensing, and new business model development. John recently retired from the role of President & CEO of Honeywell UOP ("UOP"). As CEO, John had the unique leadership experience of driving the strategic pivot of the world's largest oil & gas technology provider to a global leader of sustainable technology solutions. John created UOP's "Sustainable Technology Solutions" business to provide renewable fuels, plastics recycling, energy storage, and carbon capture / sequestration technologies on a global scale.
During his 29 year career at UOP, John held key leadership roles in executive business management, sales leadership, marketing, project management, and engineering. John earned Bachelors and Master of Science degrees in Civil and Environmental Engineering from the University of Wisconsin - Madison, and an MBA from Northwestern University's Kellogg School of Management.